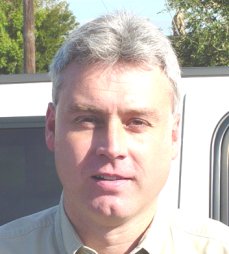 Bobby Johnson
President
Johnson Fire & Safety
Mission Statement
"The Mission of Johnson Fire and Safety Systems is to provide the highest quality, most dependable - yet economical - fire, safety, and rescue products and services available to emergency service agencies, the general public, and business and industry. The employees of Johnson Fire and Safety Systems pledge to uphold the standards and good business practices expected by its customers, and vow to always keep the needs of its customers the primary focus of the Company."
Business Profile
Johnson Fire and Safety Systems, Inc., is a full line dealer of fire apparatus, equipment, extinguishers, and suppression systems. Johnson Fire and Safety also can provide training, parts, and service for the products we represent.
Originally, Johnson Fire and Safety Systems was known as Hurst Fire Extinguisher. The present business was started in February of 1995 after Bobby Johnson bought out Hurst Fire Extinguisher and began to expand the product offerings and the scope of the business.
Johnson, the owner and President of the company, is a South Carolina certified firefighter and paramedic with over 20 years experience in emergency services. Immediately prior to the buyout of Hurst Fire Extinguisher and the formation of the current business, Johnson had served as Director of a countywide Emergency Medical Service (EMS) system for eight years.
Present operations include three mobile service units staffed by four trained employees. Johnson Fire and Safety Systems is fully insured, and is licensed and approved by the South Carolina State Fire Marshal's Office. We are also members of the Southern Building Code Congress International (SBCCI), and the National Fire Protection Association. Johnson Fire and Safety also provides support to various other state and local fire associations and events.
The business is divided into two operational divisions. The Fire Extinguisher Division is managed by Jerry Pierce, who has over 25 years in the fire service, including serving several years as Chief of a combination paid/volunteer fire department. Among the services provided under this Division are Sales/Installation, Mobile Service, Recharge, Inspections, and Training. Fire suppression systems also fall under the Fire Extinguisher Division; as well as other services such as testing of fire hose, hydrostatic testing, and cylinder inspection. Products such as emergency lights, smoke alarms, and safety signs are also available.
Bobby Johnson oversees the Fire and Safety Division. Johnson Fire and Safety is the eastern South Carolina representative for American LaFrance, a respected manufacturer of custom built fire apparatus since 1832. We are also an authorized dealer for International Safety Instruments (ISI), Chieftain protective clothing, Ranger and Servus firefighter footwear Morning Pride helmets, Pelican lighting products, Fire Hooks Unlimited, Able-2/SHO-ME Warning Equipment, Chemguard Firefighting Foams, Class 1 and Fire Research apparatus accessories, and American Rescue Technology/Genesis Rescue Tools, as well as numerous other small and specialty lines.
It is our goal to continue to acquire lines of equipment that are proven leaders in the industry and that help us meet the provisions of our Mission Statement, which reads:
For additional information on Johnson Fire and Safety Systems, or the products and services we provide, please contact us.